Tech
6 Top Live Chat Software Helping You Add More Value To Your Team
Without a doubt, determining the best live chat software for a business is a hard task. The options are wide and many, and their varieties are many too. Ranging from simple apps to full-fledged enterprise level customer support models, it is hard for companies to decide which one to go with.
Moreover, the benefits of live chat software are far and wide. But it should be understood that what is best for one business is complicated or simply inadequate for the other. 
The landscape of live chat software is tough and the functionalities present surely entice a lot of marketers. No doubt it is a plus sign to add live chat to the website regardless of industry. Now it is time to read a bit about its benefits and then compare some leading live chat software.
What are the benefits of Live Chat Software?
Amongst the numerous digital marketing tools present, everyone might be wondering about the importance of live chat support software. In all honesty, it is an important customer support tool with direct communication capabilities. 
Connecting and  communicating directly with website visitors raises customer engagement, improves the customer experience, and raises the sales too, directly and indirectly. Further benefits of such software are as under:
Streamlined customer support.

Ability to answer multiple queries outside office hours through automation.

Provides self-help resources to reduce the support team's workload and help customers in need.

Contacting leads without the need of using an email signup form.

It enables professionals to initiate direct contact in a proactive manner.

Helps keep a customer on a website for a longer time period, and even converts them.

It helps deliver a worthwhile user experience through real-time support, using a centered approach and personalization as well.

Such software can help support and marketing teams gather needed customer insights for more improvements.
Time to check various kinds of live chat software?
Now would be a great time to check the different kinds of live chat software available in the market for helping businesses provide the best live chat software.
Salesmate
Salesmate is more than just a live chat tool as it is one of the best fully loaded live chat software for website. It helps teams connect instantly with the website's visitors and help qualify them as leads. An accurate profile of each visitor is made and visitors are kept engaged through the CRM. Each visitor is attracted and engaged with the support team. This helps the latter catch more leads and convert them into customers.
The live chat website software helps reduce the response time  and delights visitors eventually. It acknowledges customer issues and resolves them in real time. Moreover, it even provides top-notch personalized experience to each website visitor.
Here are some of its salient features:
It has a customized and intuitive live chat widget matching the brand image.

It has the best pricing which also offers full transparency.

A built-in live chat feature is present within CRM software for seamless contact management.

Robust team collaboration feature encouraging real-time conversations.

Delivering best-in-class support, and that too in real-time for obtaining customer loyalty.

The software has top-notch analytics and reporting to quantify live chat agents' work.
In terms of pricing, a free trial is available for 15 days. Pricing plans start from USD$ 15 for basic, $30 for growth, and $50 for the boosted package. Custom packages do not have a set price, and are determined when the final package is chosen.
Chatra
Chatra is a complete package of a live chat software for websites and online stores. It helps streamline conversations from commonly used channels (email, messenger, websites, etc.) to improve organizing such chats and improving speed of customer service too.
The live chat software for website allows professionals to chat with website visitors easily in real time or help automate engagement with preset messages and answering at their own pace. This helps relieve pressure off the support team whilst enhancing and improving the customer experience.

What's even more heartening is the software's ability to target visitors on specific pages like the product page, where they can be helped choosing the right product in real time, leading to a rise in conversion rates.
To top it off, Chatra can integrate with most well-known eCommerce platforms and lets them see what the visitors have added to their cart. This helps them pick the right size, best delivery option and answer any checkout related queries. The result: Happy customers and more opportunities for upsells.
Here are some of its worthwhile features as a top-notch live chat support software:
It supports more than a thousand integrations with web services especially Facebook Messenger, Instagram and Salesforce. This helps them manage all leads and chats from a single source.

Details of visitors i.e. the location, and what pages they are on currently and when the team is talking to them.

Shopping cart contents – if the store is made on Shopify, BigCommerce, Ecwid or WooCommerce; Then support team members can easily see what customers have added to their cart.

Targeted messages and triggers aid in contacting visitors on certain pages and also if they are stuck on a page for some time.

Typing insights will help show the support team what the visitor is typing before they press send. Apart from predicting what they will ask, team members can respond nicely and accordingly.
In terms of pricing, the free plan is available. Else, paid options start from USD$ 21 per month per each agent.
LiveChat
This live chat website software is positioned as a multiple channel customer support service NPS software. It covers SMS, email, WhatsApp, Facebook and Apple business Chat, on top of its chat window on this live chat support software. LiveChat is integrated with numerous tools and a lot of eCommerce platforms too.
LiveChat offers a ticketing system, notifications, chat routing (assigning chats to support agents), team management tools, and sales goal tracker along with many other key features. This makes it among the best live chat software available.

The software is also suitable for customer service divisions having larger teams of representatives needing a live chat support software to manage a large volume of website visitors and customers.
This is why LiveChat is able to stand out as a worthwhile live chat support software solution thanks to its ability to add clickable buttons, faster replies, cards and carousels in a single chat window. It is known to have improved customer satisfaction because it makes conversations engaging and helpful to both teams and visitors alike.
But LiveChat's automation features aren't complete. Those who desire to use chatbots need to add another app. ChatBot is made by the same company that made LiveChat. Yet it's a separate individual software to buy, install, and setup. Hence, LiveChat can be a questionable live chat support software.
Some salient features of LiveChat are as under:
Product cards let them feature and recommend products directly in chat.

A wide array of reporting features are offered.

Customizable chat widget for each website page available. For instance, the pricing page can have the right colors and the home page can have a worthwhile welcoming message.

Answers can be saved to FAQ and can also be reused later.
In terms of pricing, a free trial of 14 days is present while the plans start from USD$ 19 per month per agent.
Zendesk
Zendesk is a live chat website software for customer service which is a sister variant of Zendesk Sell. It has Artificial Intelligence (AI) features and automation focus, with a ticketing system and reporting, which make Zendesk suitable for firms looking to upscale their operations.
The live chat software is inclined towards larger teams. Why? Because it offers routing, collaboration tools and knowledge management which allow for the shortest possible response times.
Zendesk has the ability to extract conversations from messaging platforms, social media sites, websites, email and voice over into the workspace of an individual agent. Its chatbots are known as Answer Bots and are available on multiple channels. 
Customer support professionals can use Zendesk to make various workflows for the bot. This helps it follow in various situations with customers. Another reason why it is quite a sought after live chat support software.
Moreover, it has the tools to reduce the load on the customer service teams coming through the business live chat website software. A help center, a knowledge base, or a community forum to give customers self-help can be made easily too.
In terms of pricing, a free trial is available as plans start from USD$ 19 per agent per month, which can also be billed annually. Sales and customer service team heads can create a help center, a knowledge base, and a community forum for allowing customers to obtain self help materials.
Price: Free trial is available. Plans start from USD$ 19 per agent per month, which can also be billed annually.
Freshdesk
Freshdesk is a live chat software part of a full fledged customer service solution. The software is best for large teams and organizations. It consists of the following individual products namely: Support Desk, Messaging, Contact Center and Customer Success. Each of them can be purchased both individually and collectively. The full package can be purchased in the Omnichannel Suite.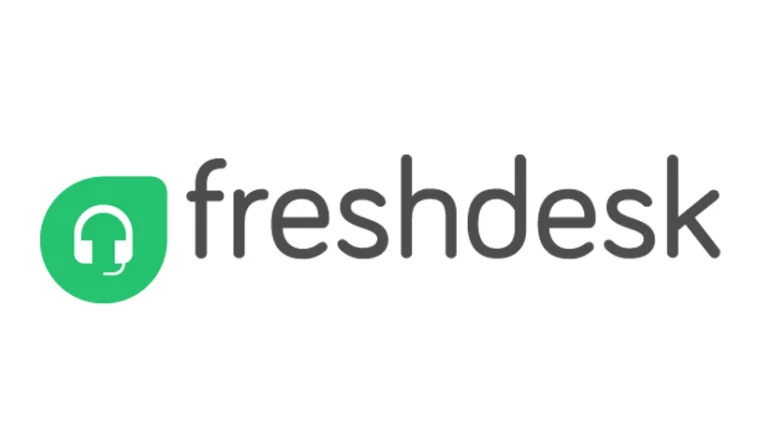 A few features worth mentioning about this live chat support software are as under:
A comprehensive large team ticketing system.

A support platform which unifies email, chat, phone, social media, WhatsApp and websites.

It has field workforce management tools.

It also has a call center system.

Provides detailed reports.
Freshdesk is a live chat app which offers chatbot aided automation powered by AI. Not only can it understand a question's intent and deliver answers but also engage website visitors for as long as needed before transferring to a live agent.
A help widget is present that can be triggered on the pages of the team's choice to offer proactive assistance, or to provide needed resources. Moreover, it offers standardized customization options and contextual support based on which web page visitors check.
In terms of pricing, a free trial for 21 days is present. There is a free plan where messaging plans start at USD$ 18 per month per agent.
Gorgias
Gorgias is also known to be one of the best live chat software suited for eCommerce. Its key features are detailed customer reporting and sales tracking. The software combines a ticket help desk module with live chat to provide top-notch support leading to raise in sales. 
Its integrations with BigCommerce, Magento and Shopify have helped it become one of the best live chat software for website based on eCommerce. They help in updating customer orders and refunds when the support team is interacting with customers.
The platform is able to retrieve conversations from email, Facebook, Instagram and SMS into a unified live chat support platform. Professionals can thus easily respond to comments on Instagram ads and social media posts to quickly convert visitors into customers.
Gorgias stands out thanks to its pricing. Instead of basing itself on the amount of agents, the pricing plans include infinite chat users. A 7-day free trial is offered and plans start from USD$ 60 per month.
Conclusion
The numerous live chat support software listed here are indeed among the best live chat software anyone can find, if they know what to find. Pricing should not be the only factor to consider because features and versatility to support all team sizes is a must.