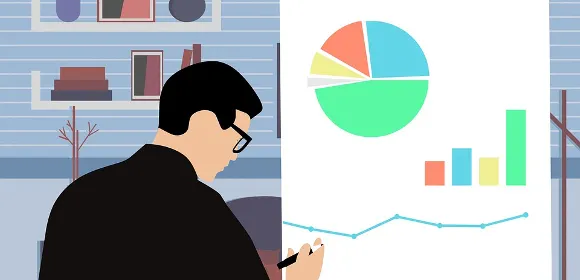 News
Top 10 Sales Graphs and Charts to Boost Your Business
Sales Graphs and Charts to Boost Your Business
In the current business world, making sales has entirely changed from reaching out for leads and commercial shooting in the dark to making data-driven decisions that persuade customers to make purchases. As the business industry continues to grow into an extensive empire, approximately 79% of consumers spend a better part of the day researching products online.
The business world is surrounded by data. You have the freedom to make the data advantageous to your sales team or leave it and execute everything manually. However, the current business era depends on data to withstand the headwinds within the industry. This is exactly where the sales graphs and charts come into play within the industry.
Note that working with ambiguous data formats won't place you where you want in business, especially when handling the competition within the industry. You need to work hand in hand with business analysts who will help you sort out your data visualization needs. Besides, you need to master the best way possible to handle all the interconnected aspects within the business.
The best way to make this happen is by utilizing sales charts and sales graphs to give you a clear picture of the progress you are making. This article analyzes some of the best sales graphs and charts that can help you boost your business to the next level. Let's check them out!
Customer Lifetime Value Sales Chart
When evaluating your sales performance, getting to know the amount of revenue that you can generate from a single customer is essential for the well-being of your business. The customer lifetime value sales chart is mainly meant to make this pretty easy. Using this chart gives you the freedom to evaluate every customer who enters your business independently.
To evaluate this value and get a clear picture of every consumer, you should subtract your customer acquisition cost (CAC) from the amount of revenue you expect to generate from a new customer over a lifetime of your business relationship. The trick applied, in this case, is to ensure that you retain your customers on a long-term basis.
If you can track your customer lifetime value, it becomes pretty simple to sort out any problem that is likely to emerge along the way. Also, you gain easily the necessary information required to build a long-term business relationship making customers spend a lot of money on your business.
    Average Sales Cycle Length
Sometimes, you may be in a dire need to optimize your sales funnel to enhance your sales success. This chart can do wonders for your business by uncovering hidden information that you need to make ends meet. Once you get into a position of optimizing your sales cycle to maximum fluency and efficiency of the highest level, you will have shortened the process.
When the process becomes short, you will automatically boost your sales. Optimizing your sales funnel is a powerful secret that can skyrocket your sales within no time. Customers will get it easier to engage with your brand, which will later convert them into potential clients who will boost your business development in the long run.
The average sales cycle length is mainly focused on streamlining the key selling points of your business and different means of increasing your conversion rate to enhance business success.
    Sales Conversion Chart
This is a sales graph that gives a more detailed snapshot of the sales conversion rate within the business. The graph showcase increasing revenue recorded from sales from different selling points within the business. With the sales conversion chart, you can increase the number of leads you are targeting and elevate the number of deals you seal within a particular period.
The sales charts increase the customer acquisition and retention rate by ensuring that all the customers get exactly what they want. Besides, the chart aids in analyzing the efforts of your team members' in converting leads and closing sales. This ranges from the overall team to specific managers within the business.
Also, you can evaluate the number of leads you are contacting, and it gives you a detailed breakdown of the number of people who trickle down to the sales funnel.
Read more : Sports guest post
Sales Opportunity Dashboard
A sales opportunity dashboard is considered an invaluable sales graph used in honing business leads across the sales funnel. This chart uses data visualization to create a balance within data values to generate valuable insights that impact the business growth. The dashboard offers you everything you need to make the most out of your sales opportunity.
The chart features different chart formats and data used to evaluate direct performance comparison and conduct in-depth data analysis that is vital in generating vital insights and predictions necessary for the well-being of the businesses. This chart capitalizes on every available opportunity to increase the amount of revenue collected.
    Sales Graphs for Optimal Performance
If you want to have a clear overview of your sales performance, this sales graph has your back covered. It is always good to evaluate your sales performance after a particular period to ensure that you are operating in the right direction. This graph enables you to identify new customers that you have acquired and the amount of revenue that every customer is driving to the business.
Also, the graph has an expansive room where you can showcase your sales trend analysis over a given time. Remember that you can customize every element you need to appear on your sales graph and use the final output to make decisions on the way forward.
    Customer Acquisition Cost Chart
The customer acquisition cost is among the most fundamental key selling points that you need to track closely for your business. If you consistently track the customer acquisition within your business, you stand a chance to appear at the top of your competitors. Very few enterprises track this important element regardless of its significance to the business success.
The CAC gives you an expansive room to track other crucial elements, such as the customer lifetime value, which is important in enhancing the progressive development of your business. To get the best out of your CAC also known as Likert scale chart, you need to monitor it closely with other business key selling points.
    The Sales Cycle Chart
The sales cycle chart is mainly used to track the amount of time it takes for the account to get through the sales funnel on an average basis. The process ranges from identifying a market opportunity to closing an account. Note that having a concise sales circle is better since you are more likely to close more sales within the shortest time possible.
This sales chart enables you to evaluate the size of your sales circle and identify areas that need modification to enable you to get the best of your business. Also, you can easily identify some of your top performers, increasing your chances of success.
Read more : Sales Coaching Software: 10 questions before spending another penny
    The Amount of Sales by Payment Method
This chart comes in the form of a line graph showing how you can track different methods of payment you are using within your business. These methods are tracked over a particular period and compared to each other depending on their returns. These sales graphs work well, especially if you have rolled out a new payment method that you intend to use.
If you roll out this graph perfectly, you can easily detect the revenue trends over a certain time frame, depending on your choice. Also, you can uncover other payment options that can work well for your customers depending on the data visualization report.
    Sales KPI Dashboard
The sales KPI dashboard is mainly focused on dealing with the key performance indicators that are vital to the sales success within the business. They offer a measurable means that you can use to formulate groundbreaking business strategies that increase the conversion rate and enhance your business's incremental growth.
The graph comes with a detailed mix of all the important business KPIs, that are all focused on enhancing the customer churn and tracking the business progress and the incremental level of sales recorded within a particular duration. The dashboard analyzes the upsell and cross-sell rates that pave a route to drilling down to the profit margins within the business.
Annual Contractual Value
This chart is classified among some of the most potent revenue graphs that come with an accessible timeline that sheds light on the amount of revenue that the existing contracts are driving into the business. The annual contractual chart has an expansive section that accommodates all the revenues from different contracts.
Also, it features the fees deducted from clients and the contract agreement to ensure that everything is running in accordance with what the agreement states. This sales chart gives you a clear picture of the existing contracts you need to focus on to attain your desired goal. Also, it pinpoints strategies that you can use to capitalize on the current market opportunities and enhance business success.
Bottom Line
According to market researchers, most organizations secure 62% of their potential customers from different online channels. This is mainly triggered by data elements by analyzing and targeting specific audiences where there are higher chances of getting customers. The sales graphs and charts discussed in this article can help you get the most out of your business.